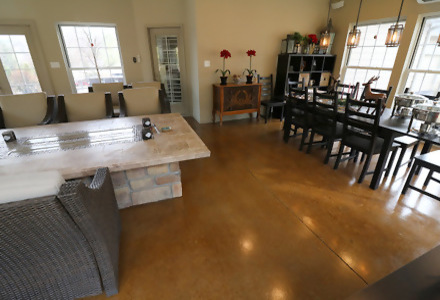 Everyone wishes for luxurious floors in their homes. However, it can be quite expensive and time-consuming to have Dallas residential flooring. Fortunately, there are affordable ways to transform plain and boring floors into hotel-worthy surfaces. Decorative concrete flooring installation created a craze in the remodeling industry. It presented the possibility for homeowners to explore the versatility of concrete further, wanting to acquire the residential floors Dallas they desire and deserve.
It happens to every home. Fading and dullness are evident in areas where foot traffic is heavy. Food and drinks that have splattered on the floor leave stains that are difficult to remove. Worn-out garage floors are not only disappointing but also dangerous. Decorative concrete overlay and coatings can transform old and ugly floors into cost-effective yet luxurious surfaces that will make anyone excited to head home.
Decorative Concrete Options for Dallas Residential Flooring
The great thing about concrete is that it is the go-to base material for almost everything in a house. Now that great thing can become greater, thanks to various decorative concrete options available today, such as concrete stamping, stains, spray knockdown finish, epoxy flooring, and polyurea polyaspartic coating. Here are the top residential flooring Dallas TX: 
Walkways and Front Entryways 
These areas are often the first thing that people notice about a home. The most common materials used for these are brick and natural stones. While many desire the same, not everyone can afford to pay for it or maintain it, which is why a stamped overlay would be an ideal option.
Driveways 
Concrete driveway designs Dallas TX contributes a lot to a home's curb appeal. A stamped overlay, spray texture, or staining would add significantly to its appeal. These are durable and provide great traction.
Patios 
The most popular enhancements for this outdoor living space are stamped overlays, spray texture, and stained concrete. These are easy to maintain and provide the right aesthetics to make it an ideal place to hang out.
Pool Decks 
A spray knockdown finish is a popular coating for the pool deck because its textured surface makes it safe against slips and falls. Plus, it has the capability to maintain its cool temperature despite long hours of sun exposure.
Interior Floors
Stained concrete is great for dressing up indoor concrete floors. It creates luxurious aesthetics and is effective in masking blemishes and ugly spill stains.
Garage Flooring 
A garage floor requires a tough and durable surface. Residential epoxy flooring and polyurea polyaspartic coatings are made to endure tremendous impact, weight, chemical spills, and other things that cause great damage to concrete.
Let's get together to discuss options for your residential Dallas flooring property. Work with the expert concrete contractor in town! Call us at (972)808-5281 for a free consultation and quote.
From concept to completion, Dallas Decorative Concrete will be there to assist you in choosing the perfect residential floors Dallas and the right solution for every concrete area in your home. We have over 20+ years of professional experience in the remodeling industry, specializing in resurfacing, refinishing, and repairing concrete surfaces, both in residential and commercial locations in the Dallas Texas area.
Ready to turn your home into a heavenly abode? Email or contact us. We'd love to schedule you for a complimentary consultation and quote.