CONCRETE OVERLAYS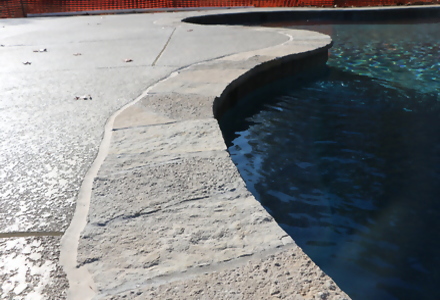 Surface imperfections on concrete slabs can easily be remedied without having to tear out the entire thing. Resurfacing it is enough to cover up the imperfections and give the area a brand new surface with an improved look.
When you see surface damage on your concrete slabs, the question to ask is which type of concrete overlay would be most suitable. Each one offers great perks, such as durability, better aesthetics, minimal maintenance, and affordable costs.
Before an overlay is installed, the existing slab must first be prepared. This would involve cleaning the surface, grinding off any worn-out coating or overlay, or doing minor repairs. This would make the overlay adhere better and last longer.
Types of Decorative Concrete Coatings
Overlays are ideal for any type of concrete surface but make sure that it does not have underlying issues, working cracks, heaving, and freeze-thaw damage. For structurally sound slabs with minimal surface damage, here are the topmost overlays you can choose from:
Stamped Concrete Overlays – Probably the most versatile overlay, it can be stamped and stained to look like many different types of paving or flooring materials.
Knockdown Texture – This spray-down pool deck overlay is great for covering up damage on pool decks, driveways, and patios. It is slip-resistant and cool underfoot.
Epoxy Coatings – Known to be a very durable material, epoxy coating is ideal for interior floors because it tends to discolor upon exposure to UV rays. Despite that, it is resistant to impact, chemicals, scratches, and most types of damages.
Highly Recommended Concrete Stamping, Staining & Epoxy Floor Designs
Decorative concrete overlays can be stamped, stained, and even polished. You can choose to have the overlay stamped in multiple patterns to create variety. You may choose to use different stain colors on single or multiple patterns, too, to make the surface more interesting.
Another great idea is to use stamped overlays on pool copings and then a spray texture on the rest of the pool deck. The same can be done on front entryways, walkways, and driveways.
For epoxy garage floors, broadcasting paint chips after it has been installed will give it a granite or terrazzo look. You can also add metallic tints to epoxy especially for restaurants, car showrooms, and other commercial floors.
Looking to resurface your home or business space? Call (972)808-5281 to learn more about concrete overlays.
It is important for property owners to find a reliable and efficient Dallas decorative concrete resurfacing installer. Our team in Dallas Decorative Concrete help create comfortable, appealing, and functional spaces that you will be proud of having. We are a licensed concrete company that specializes in installing overlays for both indoor and outdoor spaces. We have over 20 years of experience in improving, enhancing, and resurfacing concrete in Dallas, TX area.
Have a project in mind? Call us today and inquire about our services. We will schedule you for a consultation and quote, fast and free!
FEATURED PROJECT
Call us at (972)808-5281 for a FAST FREE QUOTE!