Concrete Resurfacing,
Refinishing, and Repair
in Dallas, TX
In the remodeling industry, dealing with worn-out or damaged concrete surfaces can be quite a task. For Dallas Decorative Concrete, it is more a passion than a task. We are a professional decorative concrete flooring Dallas company that specializes in resurfacing, refinishing, and repairing concrete floors and surfaces in residential and commercial locations in the Dallas, Texas area.
Why Dallas Decorative Concrete is a Trusted Contractor
That first time we resurfaced a concrete, we knew this is something we enjoyed doing. Here are other good reasons why you can rely on us:

Skilled and Reliable Installers
20+ Years of experience- The team of Dallas Decorative Concrete consists of resurfacing, refinishing, and repair specialists that are highly trained to work in the least invasive way possible.

100% Customer Satisfaction
Our customers admire the fact that we listen to their demands and make sure we meet all their needs right down to the smallest detail. Each project is only considered complete if the property owner is satisfied. We are happier when our customers are happy, too.

Top-notch Products and Services
When it comes to your home or commercial space, we want you to have as many choices as possible. This way, you get to choose patterns, designs, and materials that would best suit your needs. Each solution we provide gives you a multitude of options at a surprisingly economical cost.

Safe and Efficient Installation
Licensed, Bonded & Insured. We aim to make each and every project as risk-free and as stress-free as humanly possible.
Services, Assessments & Consultations
Give us a call or send us an email and one of our staff will schedule you for a free consultation and an honest estimate right in your own home or business space. We look forward to hearing from you and doing your decorative concrete projects.
Call (972)808-5281 for a Fast Free Quote!
Specializes in premium decorative concrete flooring Dallas coatings and overlays: stamped, stain, epoxy & more!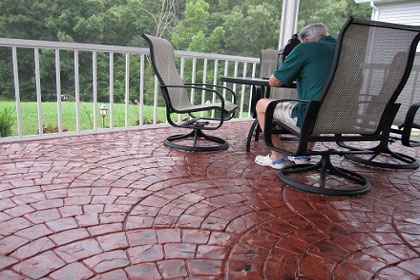 Stamped Concrete
Stamped Concrete and stamped overlays are some of the most popular choices in adding texture and patterns on newly poured concrete or concrete with existing overlay. It can be designed to look like running bricks, natural stone, and other high-end materials.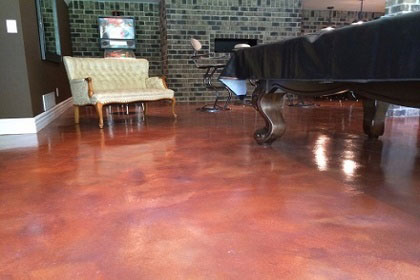 Stained Concrete
Concrete stains come in two kinds: acid and water-based. Acid stains are reactive stains that create different and unique earth tone colors. Water-based stains are non-reactive stains that create solid and consistent colors.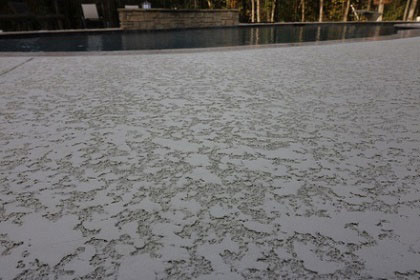 Knockdown Texture
Spray Knockdown Finish System is known for its cooling and slip-resistant features that makes it ideal for pool decks. The coating is sprayed onto the surface and manually trowelled. It can also be installed on patios, walkways and driveways.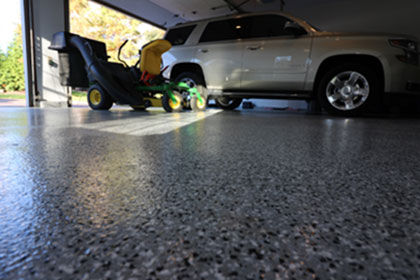 Epoxy Flooring
Epoxy consists of an epoxy resin & polyamine hardener. When used on concrete floors, it creates a seamless rigid plastic surface. It is ideal for indoor spaces like garages, car showrooms, commercial kitchens, and more.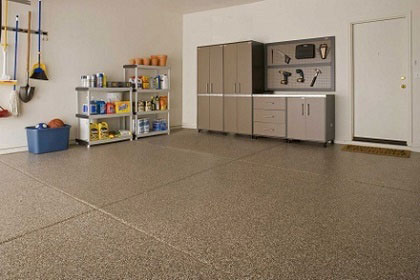 Polyurea Polyaspartic
For projects that need to be completed in one day, this is the best solution. This fast-curing coating is durable & stain-resistant making it ideal for industrial floors. Polyurea polyaspartic is also perfect for garage floors, hospitals,locker rooms, restaurants and more!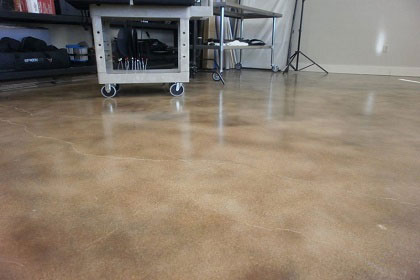 Polished Concrete
Polished concrete is one of the recommended decorative solutions for both residential & commercial interior floors. It produces a high-gloss finish that will never need waxing or coatings. It is appealing, economical & low-maintenance.