CONCRETE PATIOS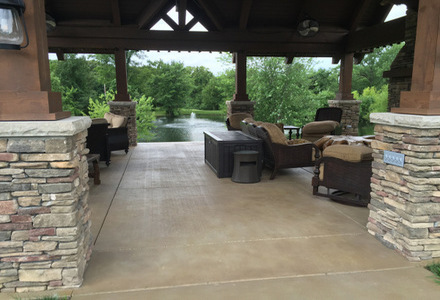 A concrete patio is the perfect spot to enjoy the comforts of the indoors in an outdoor setting. It's like having the best of both worlds. In the US, concrete is the number one material used for patios. Why? It is versatile enough to be formed and designed in many different ways to suit unique lifestyles and most budgets. However, time and usage can take a toll on the patio, causing the surface to crack, weaken, and discolor. Good thing these can be reversed with repair, resurfacing, and refinishing methods.
A concrete patio, although more affordable than other types, can be made to look expensive and luxurious with decorative coatings and overlays. Property owners would surely have fun picking out patterns and colors that are most suitable for their outdoor living space.
Benefits of a Concrete Patio
More and more materials are being made available for use on outdoor patios nowadays. However, some property owners still stick to concrete and here are good reasons why:
It can be colored to match or complement the exterior of the house or other outdoor elements like fences, pool decks, and more.
There is an almost endless list of design options when it comes to texture and patterns.
Concrete patios are durable and long-lasting, as long as properly installed and sealed.
Cleaning and maintenance are both simple and easy.
The overall concrete patio cost is more economical than other paving options.
Top Options for Concrete Patio Resurfacing, Refinishing and Repair
Stamped Concrete Patio – The patterns and colors involved in stamping concrete patio overlays are perfect for making the outdoors a lot more decorative than it usually is. The grooves in the chosen pattern create a non-skid surface, making it safe from slips and falls.
Stained Concrete – Acid stains create random effects that make patios look like real stone. It can also be made to look like leather. Coloring patio surfaces with stains immediately enhances its look and covers up any stains or discoloration. Acid stains only come in earth tones but water-based types offer a broad palette of colors that you can mix and match.
Spray Down Concrete System – If you want a decorative patio with subtle appeal, a spray knockdown finish can give you that and more. Aside from the appeal of the spray texture coating, it provides impressive slip-resistance and heat reflectivity.
Concrete Patio Cost
Cost is one of the most important factors when it comes to weighing your options. Decorative concrete patios are more affordable because you keep your current patios and just enhance it with a better look and functionality. There is no fixed rate but there are factors that could influence the total costs of a project, such as:
How wide the concrete space is
How much surface preparation processes are involved
The type and material used
And more…
Let us transform your concrete patio from blah to beautiful. Call (972)808-5281 for more info.
At Dallas Decorative Concrete, we believe that concrete patios should reflect the lifestyle of the owners. This is one reason why we make sure that we get to know our customers, their wants and needs, and what would benefit them the most. Our mindset is not about gaining profit but exceeding customer expectations. After all, we are merely instruments to improve the quality of our customers' lives, even through concrete resurfacing Dallas TX.
Let's schedule you for a free consultation and quote. Call or email us today!
FEATURED PROJECT
Call us at (972)808-5281 for a FAST FREE QUOTE!