COMMERCIAL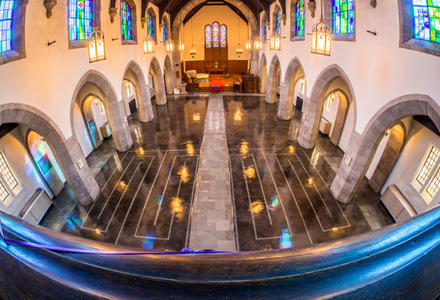 Commercial establishments require aesthetics that will entice more customers, thus, more profit. It is quite a pain for business owners to have to remodel their concrete surfaces. It is expensive and it would disrupt regular business operations. Fortunately, there are affordable means of improving commercial flooring that take less time to install.
Budget is important in every business. Something must be worth the investment before it can be approved. Decorative overlay and coatings restore old concrete slabs by providing it with a brand new surface. The visual appeal is enhanced and the function is improved. Also, it requires minimal installation time, limiting remodeling period to a few days, depending on the type of system used and the size of the job.
Decorative Concrete For Commercial Spaces
Multi-family / Apartments
Tenants deserve a nice place to live in, especially since they are paying for an abode they can call their own for the time being. Landlords will definitely appreciate stained concrete and epoxy floor coatings for making floors more appealing and functional as well. For outdoor surfaces, stamped concrete overlay and spray texture coating are ideal solutions. Some areas that could benefit from these are:
Individual rooms or units
Entryways
Driveways
Patios
Parking spaces
Swimming pool deck
Industrial Floors
Industrial flooring is one of those surfaces that take the most abuse so it has to be tough enough to withstand impact, abrasion, tremendous weight, and other usual causes of floor damage. Epoxy and Polyurea floor coatings would be great for:
Airports
Hangars
Factories
Manufacturing or distribution centers
Military facilities
Warehouses
City Government Facilities
The Dallas Municipal Building and City Hall could surely use sophisticated floors that are easy to maintain and inexpensive enough. Epoxy and polyurea polyaspartic coatings are highly recommended for:
Government offices
Hospitals and laboratories
Embassy
Museums
Stadiums / Athletic Facilities
Being home to six major league sports teams, Dallas sports facilities would surely benefit from epoxy and polyurea polyaspartic coatings. These make concrete floors a lot tougher and more appealing than they were prior to resurfacing. Both coatings have the ability to stay intact and seamless even with heavy use.
HOA (Community pool, Office building)
Homeowner Associations often uphold policies regarding the right materials to use even for flooring. Decorative concrete is one of the top solutions that HOA prefers. They produce highly appealing surfaces at economical costs. HOA allows decorative concrete for:
Gated communities
Leased land properties
Subdivisions
Hotels & Resorts (Hospitality)
Dallas gets a lot of tourists every year. Whether these are sports fans or people who want to explore the city, they deserve comfortable accommodations during their stay. Hotel and resort areas that could benefit from commercial concrete flooring finishes are:
Dining areas
Driveway
Function rooms
Hotel rooms and suites
Lobbies or reception areas
Parking lots
Pool decks
Country Clubs
Country clubs feature several privileges that are exclusive to elite members. Any type of decorative concrete can be used in different areas in an exclusive club, such as:
Sports and recreation amenities
Dining areas
Individual rooms
Event facilities
Property Management Companies
Property managers always need to keep properties in mint condition to be able to attract potential buyers. Decorative concrete is a quick but efficient way to make patios, pool decks, driveways, and other spaces more attractive and functional. It is good to know, too, that these coatings and overlays are long-lasting.
Got a commercial flooring that needs extra TLC? Call (972)808-5281 to know your options.
Dallas Concrete Artisans is a decorative stamped concrete contractor in Dallas that also specializes in resurfacing, refinishing, and repairing commercial flooring. Our team of experts has over 20 years of experience in turning ugly and boring spaces into luxurious ones at affordable costs.
Call or text us today to schedule a free consultation and quote. We want nothing more than make your businesses better.
FEATURED PROJECT
Call us at (972)808-5281 for a FAST FREE QUOTE!