CONCRETE REPAIR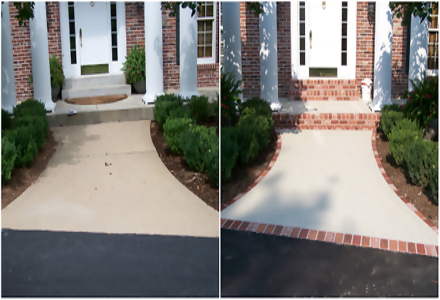 Concrete is a very durable material, no doubt about that. However, just like most materials, it can get worn out and damaged by regular exposure to harmful elements like moisture, extreme heat and cold, impact, weight, and foot traffic, to name a few.
In the past, the conventional solution was to remove the damaged slab and replace it with a new one. It worked but it was costly and it requires too much time. Fortunately, there is a wider selection of concrete repair options that help eliminate the need to remove and re-pour slabs.
The concrete flooring repair options we offer do more than just fix and manage any damage. You are guaranteed to look at, walk on, and drive on restored concrete surfaces that look amazing and work awfully well.
Repair or Replace Concrete?
There are several concrete applications and repair options, yes, but not all slabs are repairable. There are damages so bad that a replacement would be a more sound solution. Here are some concrete issues that are not eligible for repairs:
Deep, Large, and Working Cracks – The depth or size of a crack is already an indication of extensive damage. Working cracks are those that recur. Imagine repairing a crack and then it comes back in the exact same spot. This is an indication that there is movement underneath that is causing the crack to reappear. It is necessary to have it checked out by a professional to determine the cause.
Freeze-thaw Damage – This occurs when concrete pores are filled with water and then exposed to freezing temperatures. When water turns to ice, it expands, requiring more space. Thus, the concrete is pushed, deformed, and weakened. If this is the damage, a re-pour and sealing is the best solution.
Steel Structure Damage – If rust is oozing out of cracks on a slab, this could be a sign of damage in the steel foundation. Damage that deep will only recur if repaired so might as well save time, money, and sanity with a replacement.
Concrete Repair Methods and Systems
Concrete Resurfacing – This is the process of installing a coating or overlay on an old slab to hide imperfections on its surface.
Refinishing – This is the process of finishing the slab differently to enhance its look. Perfect for stained and discolored concrete.
Resealing – Resurfaced and refinished slabs are often sealed to make it more resistant to damage and to enhance its look. If the old sealer has faded and dulled, it is necessary to reseal it to restore its protective and decorative function.
Cracks? Holes? Ugly stains? Call one of the top Dallas Concrete Repair Contractors at (972)808-5281.
Call us at (972)808-5281 for a FAST FREE QUOTE!