CONCRETE REFINISHING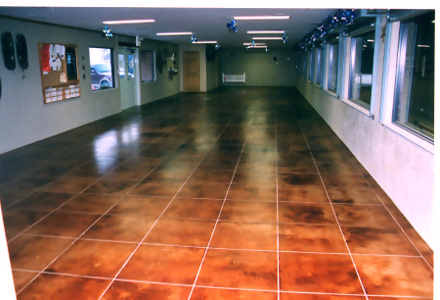 Concrete is a very porous material, therefore, it stains easily. No matter how much you scrub on a stain, if the pigments are buried deep into the pores, it will remain a stubborn stain.
If your concrete have issues such as stains and discoloration, slab removal is definitely not a proper solution. There are several concrete refinishing techniques that can transform surfaces from drab to delightful.
It is highly recommended for property owners to have their concrete spaces assessed prior to hiring a contractor. This way, it can be determined if the slab is qualified for a refinishing. If the damage is deep and extensive, a slab removal and replacement might be a more appropriate solution.
Refinishing Vs Resurfacing: What is the Difference?
Refinishing and resurfacing are very confusing terms. Some say they are one and the same, but they are not. Resurfacing is the process of reforming the look and function of a slab by adding an overlay, coating, or paving material. It is often done on slabs with surface damage that needs to be covered up.
Refinishing, on the other hand, is the process of updating or changing the finish of a slab. This is often done for surfaces with discoloration or stain issues. The surface is ground off a little, then a finishing coat is applied to give it color or protect it.
Decorative Concrete Coatings
Concrete Staining – Just like in wood, stains add color to a slab, disguising stains and discolored areas in the process. Acid stains penetrate deep and causes chemical reactions that cause random tones and effects to appear. Water-based stains, on the other hand, are non-reactive and produce consistent hues.
Concrete Polishing – A grinding equipment is loaded with abrasive pads, starting from coarse ones then progressing to finer. The concrete is sanded until it reveals a more appealing, smoother, and shinier surface. This mimics the look of a waxed surface minus the waxing and scrubbing.
Concrete Sealing – Most concrete surfaces are topped off with concrete sealer to give it a bit of shine and to add a protective layer over it. Sealed concrete needs to be resealed every couple of years or sooner for high traffic areas.
Is your concrete good but ugly, stained, or dull?
Call (972)808-5281 for first-rate concrete refinishing.
Why settle for ugly concrete surfaces when you can renew its finish at an affordable price? We are a licensed concrete refinishing company that specializes in Dallas pool deck refinishing and restoring concrete surfaces, both indoors and out. We offer concrete driveway overlays and coatings and we stain, polish, and seal patios, interior floors, and commercial flooring. We resurface concrete and have over 20 years of experience and we take pride in our work and great attention to detail.
We are just a call away. Call or email for a free in-home consultation and an honest cost estimate, too!
FEATURED PROJECT
Call us at (972)808-5281 for a FAST FREE QUOTE!