When it comes to building a home, concrete is a popular material to use. It is durable, timeless, and highly versatile. Today, sustainability is such a big word in the construction industry. Fortunately, concrete is also a sustainable material. It is eco-friendly regardless of what stage or form it is in: pre-production, demolished, plain, or decorative concrete. One highlight is how energy-efficient it is. Homeowners will surely love this noteworthy feature of concrete.
Thermal Mass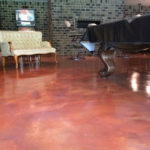 Concrete is known for its thermal mass. It is the ability to absorb and store heat. It maintains its cool temperature even in the warmest of days. For outdoor use, concrete is a perfect material for pool decks. Despite long hours of exposure, the surface remains cool enough to walk on with bare feet. For indoor use, a concrete floor helps save energy by minimizing the need for an electric fan, heater, or air conditioner. The concrete absorbs the heat of the air, thus, keeping the room cool. During cooler weather, the concrete absorb less heat, thus, making the room feel warmer.
Light Reflectivity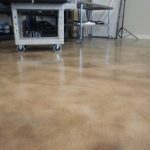 Polished concrete is a type of decorative concrete option that involves grinding the slab until it is smooth and shiny enough. This is an energy-efficient solution because the shine of the floor increases its ability to reflect light, thus, minimizing the need for more electric lighting fixtures. Reflective floors make rooms brighter. One another way polished concrete helps reduce energy consumption is by eliminating the need to wax the floor and to use an electric buffer to make it shine. The smoothness and shine of a concrete floor that went through the grinding process are permanent. You just need to sweep and mop it occasionally.
Other Sustainable Benefits of Concrete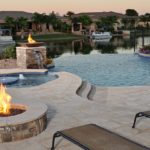 Concrete is a green building material in so many ways. Aside from being energy-efficient, it is also resource-efficient and recyclable. It is made from limestone, which is the most abundant mineral in the world, as well as from waste byproducts from steel mills, power plants, and other similar facilities.
Sustainable products are trending nowadays. Make sure that you use eco-friendly materials as much as possible. You can never go wrong with concrete. It provides so many benefits and it lasts a long, long time. It is also versatile enough to be designed in various shapes, textures, and patterns. Plus, it is also a lot more affordable than other decorative materials in the home building industry.